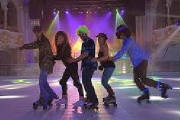 Special events for 2018:
OUR LAST WKND AFTERNOON SESSION WILL BE SAT, APR 28 & SUN,. APR 29, 2018 UNTIL FALL 2018. ALL OTHER SESSIONS CONTINUE AS SCHEDULED.
Please DO NOT carry FOOD/DRINKS into our facility on any public session (without a reservation). We have a concession area and we do sell food and drinks.
WE DO NOT PROVIDE SOAP IN RESTROOMS. IT IS A SAFETY ISSUE. HAND SANITIZER IS AVAIL AT SALES COUNTER AND SNACK BAR.
$5 deposit for locker keys: It is necessary to collect a deposit for locker keys as most have been stolen. Keys are available in the skate room upon request. Locker rental is $.50 to $1.25. It requires a quarter(s) to rent locker and an additional quarter(s) to return key to get deposit money back.
In an effort to remain an affordable entertainment option, WE DO NOT ACCEPT CREDIT CARDS as this would require us to raise prices. We accept cash or check with I.D. only.
Check out our birthday packages during all public sessions OR book a PRIVATE party. Call 454-1320 for details.
We now have 'Skate Mates' available. They are wheeled skate aids for beginning skaters. They rent for $3.00 with a deposit. They are a wonderful assist for those who are just learning to skate. They help maintain balance and the skater can learn to skate with the support of the skate mate. These require parental supervision and are to be used according to our rules as announced during each session.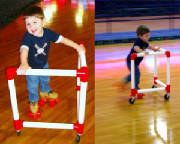 Learn to skate with 'Skate Mate'