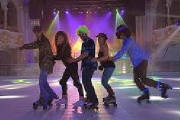 We are temporarily closed throughout August 2021. We Re-Open Friday, Sept 3, 2021 at 8 pm. Regular hours of Fri/Sat 8-10 pm and Tues 6-8 pm resume thereafter.
Keep an eye out for the Adult only Skate for 16 and over ONLY! Dates will vary.
OUr last Saturday afternoon session was April 17, 2021. We will resume this session in the fall. All sessions will run as usual. Enjoy your summer !
Call now to book private parties! 740-454-1320
EVERYONE EXCEPT SPECTATOR PARENTS MUST WEAR SKATES AT ALL TIMES!! NO EXCEPTIONS. This has become necessary so that all may enjoy the sport of skating. This rink is not for 'hanging out'.
Please DO NOT carry FOOD/DRINKS into our facility on any public session (without a reservation). We have a concession area and we do sell food and drinks.
WE DO PROVIDE SOAP IN RESTROOMS. IT IS A SAFETY ISSUE. HAND SANITIZER IS AVAIL AT SALES COUNTER AND SNACK BAR.
$5 deposit for locker keys: It is necessary to collect a deposit for locker keys as most have been stolen. Keys are available in the skate room upon request. Locker rental is $.50 to $1.25. It requires a quarter(s) to rent locker and an additional quarter(s) to return key to get deposit money back.
In an effort to remain an affordable entertainment option, WE DO NOT ACCEPT CREDIT CARDS as this would require us to raise prices. We accept cash or check with I.D. only.
Check out our birthday packages during all public sessions OR book a PRIVATE party. Call 454-1320 for details.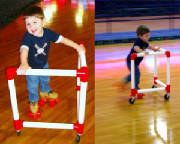 Learn to skate with 'Skate Mate'