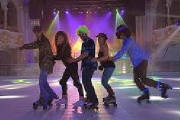 We will resume Sat. 1 - 3 pm on Dec. 2, 2023. Adm will be $5. Skate rental is $2. Call us today to book your birthday party during this session, spots are limited.
Join us each Dec. 31, 2023 from 8 pm to midnight for our annual New Year's Eve party. Adm is $8 + skates. There will be hats / horns, special skates and prizes! This party is rated 'G' for all ages. Clean family fun!!
CRAFT SHOW tba. Additional details on Facebook at Mattybcrafts.
HOME SCHOOL SKATERS please join us on one of our current public sessions. We skate every Sat afternoon from 1 -3 p.m. Adm is $4 + Skates. Tue from 6 - 8 p.m. Adm is $3 + skates. Do not carry food, drinks or water into the rink. Skates are inspected for rink use. All 18 & under pay adm & skate rental. Spectator parents are always welcome.
ADULT ONLY check back for future dates, 16 & over only. ID upon request, Keep an eye out for the Adult only Skate for 16 and over ONLY! Dates will vary.
Saturday afternoon session will be suspended. This session will resume in Fall 2023. Watch for details.
Call now to book private parties! 740-454-1320
EVERYONE EXCEPT SPECTATOR PARENTS MUST WEAR SKATES AT ALL TIMES!! NO EXCEPTIONS. This has become necessary so that all may enjoy the sport of skating. This rink is not for 'hanging out'.
Please DO NOT carry FOOD/DRINKS into our facility on any public session (without a reservation). We have a concession area and we do sell food and drinks.
$5 deposit for locker keys: It is necessary to collect a deposit for locker keys as most have been stolen. Keys are avail at sales counter. Locker rental is $1.00.
In an effort to remain an affordable entertainment option, WE DO NOT ACCEPT CREDIT CARDS as this would require us to raise prices. We accept cash or check with I.D. only.
Check out our birthday packages during all public sessions OR book a PRIVATE party. Call 454-1320 for details.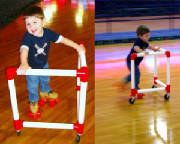 Learn to skate with 'Skate Mate'